Welcome!
Helping Companies Tell Their Story! Contact us today so we can help your company tell your story!

Feel like your business is Invisible? MyLogoSource.com will help you GET NOTICED & BE REMEMBERED! We take the anxiety out of picking the right promotional marketing ideas!
Ask about our FREE Virtual Sample. See YOUR LOGO on an image of Any Item before it's branded with your logo!

Did you know?
Promotional product ideas are powerful, both as effective forms of communication & as useable, necessary tools. The following results reveal just how seamlessly promotional products integrate into life, impacting the daily routines of the recipients.
• 91% had at least one promotional product in their kitchen
• 74% had at least one promotional product in their work area
• 88% of consumers surveyed could recall the name of the advertiser on a promotional product they received in the past 12 months
• 62% could recall the message

Quickly and easily search our vast database of ideas for items to: IMPROVE TRAFFIC at trade shows, RECRUIT new employees, MOTIVATE staff, THANK a customer, INCREASE AWARENESS, PROMOTE Safety programs.
Let us help you shine a light on your LOGO and help create demand for your BRAND!
If you can't find what you're looking for or if we can help in any way, please contact us so we can discuss your needs in greater detail, or use our shopping cart to submit your order - our secure check out makes it safe, easy and convenient. If you are just browsing, click on our 'request for more information' option and we'll get back to you. It's our pleasure to help! We make it easy!
Featured Item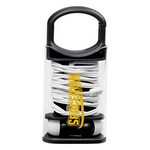 Earbuds Combo Set
Protective Plastic Travel Case. Cord Organizer. Phone Stand. Screen Cleaner. Carabiner Attaches To Backpack, Belt Loop, Etc. Works With Most Audio Devices. Small Size Is Great For Pocket, Purse Or Tra...
$1.99 - $3.48
Signature Showrooms